Brief
To provide cost-effective door-to-door movement of 10 x CAT 793C dump trucks from a mine site in Chile to Bunbury, Western Australia, within specific, limited delivery parameters.
Origin
EXW copper mine, La Negra, Chile
Destination
DEQ, Bunbury, Western Australia
Customs and Quarantine pre-cleared prior to vessel arrival (significantly reducing handling, time, and expense at destination)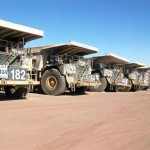 Job Specifics
Experienced Freightplus personnel traveled to Chile to ascertain the most advantageous method of moving the equipment efficiently, safely, and at the lowest possible cost.
The most commonly used port for exports from this area is Antofagasta.  However, because Antofagasta port is situated in the city centre, extensive dismantling would have been required to enable transport by road to that port.
Freightplus surveyors identified that the port of Angamos, some 60kms north of Antofagasta, would be a far more cost-effective option because the trucks could be moved to the port fully built up. The port of Angamos had never handled equipment this large so significant preparation was required prior to the trucks' arrival and Freightplus personnel were made available to advise and assist with the appropriate handling.
Power poles en route to the port were temporarily removed to give access to the trucks and a Freightplus quarantine cleaning pad was set up from scratch for the duration of the project.
One week prior to the arrival of the truck at the port one of our multilingual, technical support managers traveled from his base in Panama to Chile, to ensure all preparations were successfully completed ahead of the trucks' arrival.  An experienced quarantine assessor, he remained in-country for twelve weeks, supervising quarantine cleaning to AQIS entry standard and arranging the removal of platforms and spill guards to achieve optimum shipping dimensions, further reducing costs.
Freightplus coordinated an offshore inspection by the Australian Quarantine & Inspection Service to facilitate AQIS pre-clearance of the trucks.
Three weeks prior to the arrival of the charter vessel, an AQIS officer arrived in Chile to inspect the trucks ahead of arrival in Western Australia.
All cleaning and inspection was completed three days prior to the arrival of the charter vessel.  Loading onto the vessel was successfully completed, within 24 hours of vessel arrival.  Export documentation and Customs formalities were expedited and our vessel departed on schedule for the voyage to Australia.
On arrival in Western Australia, the trucks were discharged and trucked to the customer's yard.  All trucks were in the customer's yard within three days of the vessel's arrival at Bunbury port.
Outcome
The consignment was transported undamaged, cost-effectively, and within the designated time frame. On completion, the customer commented; "I was very happy with the way the 793s were handled and I thank you and your team for the way the job was carried out."