Freightplus offers international air freight forwarding for urgent parts, heavy machinery, mining equipment or other oversized cargo.
Freightplus is a Regulated Air Cargo Agent and a member of AFIF. With access to all international airlines and private charter operators, our experienced crew is able to identify and apply the most appropriate flights to meet the specific service requirements and delivery deadline of each individual shipment.
Whether it's air freighting urgent VOR parts, chartering an Antonov freighter to get built up machines to a remote location or rushing urgent documents overseas to close an important deal; Freightplus will match your needs with the right solution from a range of air freight forwarding services to ensure in full, on time delivery.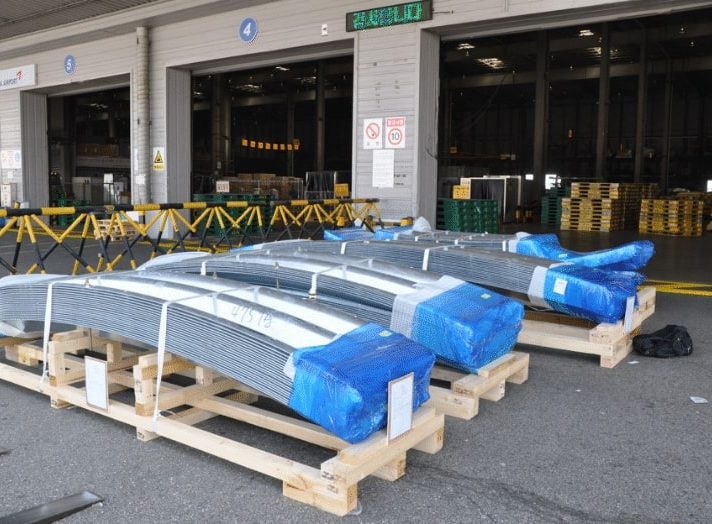 See a list of our services below:
Regular economical air freight consolidation services
Passenger and freighter-only aircraft options
Direct airline bookings for priority air freight shipments
Daily services to and from most international airports
Urgent courier services
Same day dispatch
Packaging services
Consolidation of multiple orders
Escorted deliveries
Door-to-door hand-carry of urgent components or documents
Hazardous cargo such as air freight for mining explosives
Comprehensive insurance
Door to door airfreight solutions
Full freighter-aircraft charters, including Russian Antonov freighters and heavy-lift helicopters
Order Tracking
Roll-On/Roll-Off Shipping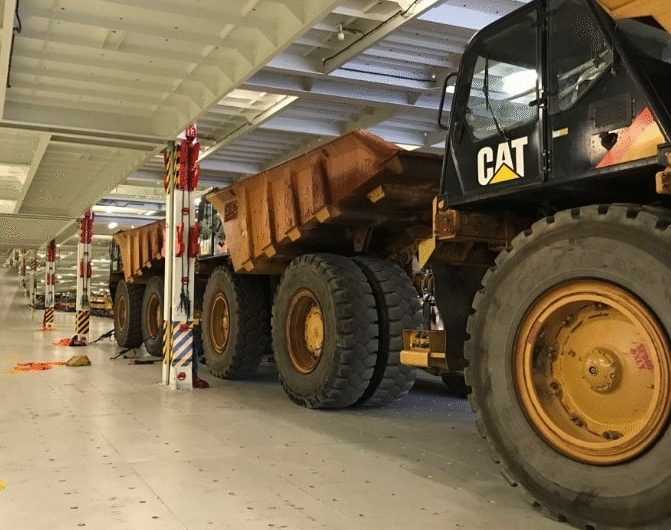 There are regular roll-on roll-off freight forwarding shipping services between most major international ports, either directly or via a transhipment port. Traditionally, RORO vessels were pure car and truck carriers however modern RORO vessels are more commonly being built with greater capacity for shipping mining equipment and construction machinery, agricultural equipment, locomotives and even static project cargoes, which can be loaded on special equipment for shipping large items that are too big to ship in containers (MAFI roll-trailers).
Some new roll on/roll off vessels on major shipping routes can accommodate cargoes weighing up to 375 metric tonnes and measuring 18m long and 6m high but on smaller trade lanes, the maximum capacity of RORO vessels is more commonly in the 80 to 150 metric-tonne range, with a maximum cargo height of around 4.8 metres.
Freightplus enjoys preferential rates and space allocation on most major RORO carriers, enabling us to offer cheaper RORO shipping.
The key benefits of RORO shipping are;
guaranteed under-deck stowage
no lifting required
no container packing or unpacking
most have fixed sailing schedules (not all)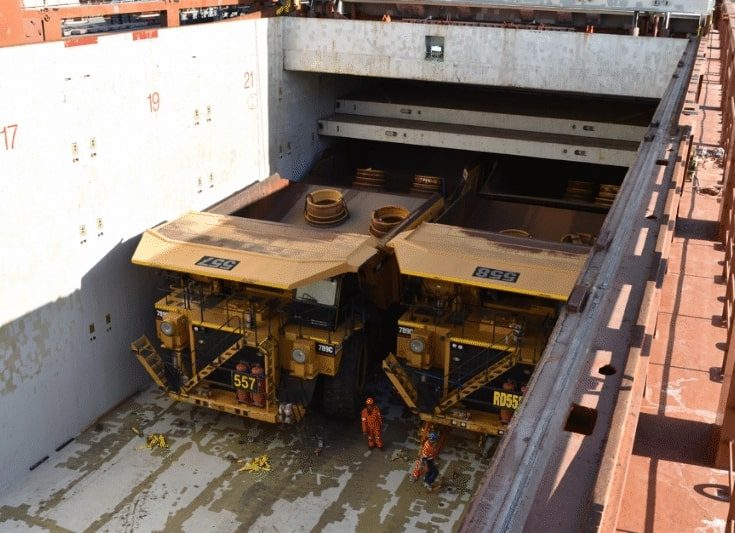 Break bulk is the term generally applied to cargo that cannot be containerized, usually due to its size. On major trading routes, most break vessels are geared (i.e. they have their own cranes for lifting the individual pieces of cargo from the wharf onto the vessel and discharging cargo from the vessel to the destination wharf).
Some break-bulk vessels have regular 'Liner' services – operating a fixed route, in a fixed frequency and rotation. They will generally be contracted by customers to transport commodities or products regularly between the same supply and delivery points, for an agreed period. These regular shipments of steel or timber or some other similar commodity form the base load, to which the carrier adds additional cargoes by marketing the service to other regular and ad hoc customers shipping large pieces of equipment to and from their scheduled ports of call. Many modern break-bulk vessels are equipped with 'tween decks', movable pontoons that can be repositioned as interchangeable decks, inside ship's holds, to accommodate shipping heavy pieces of equipment of various heights. This is an excellent solution for anyone shipping very tall pieces of machinery requiring under-deck stowage.
Conversely, 'Tramp" or "Tramper" services don't operate to a fixed schedule. Instead, they follow one load to the next, securing ad hoc base loads which take them to a particular port or direction and then add other cargoes to maximise returns, by trading on the spot market. These services can be beneficial for customers buying packages of heavy equipment and shipping from smaller places that do not have sufficient imports or exports to warrant regular shipping services or port facilities.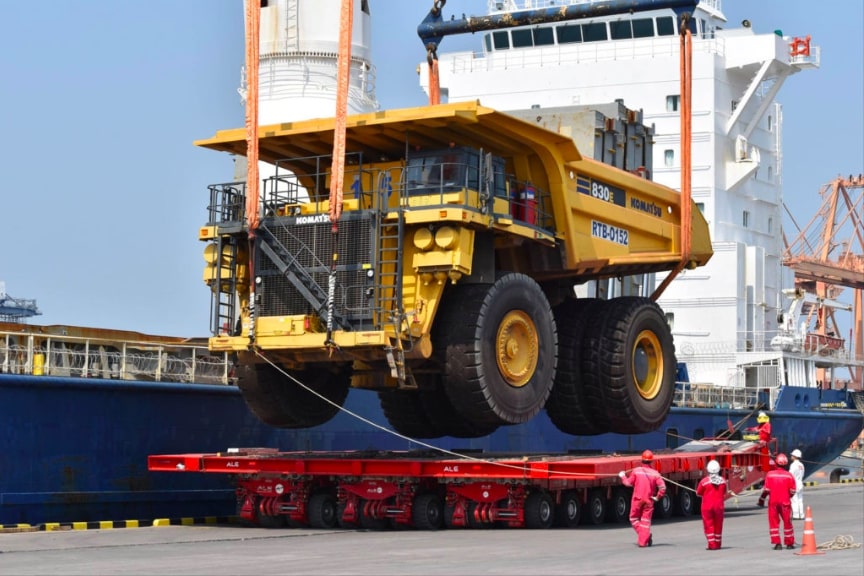 What is heavy-lift shipping? The term 'heavy-lift shipping' is used in relation to shipping extraordinarily large or heavy cargoes.
A heavy-lift ship is a vessel designed for shipping very large loads that cannot be handled by normal ships. They are of two types:
Semi-submersible ships that take on water ballast to submerge the cargo deck of the vessel below sea-level to allow the load — usually another vessel — to be floated over the deck. Once the cargo is in position, the ballast is jettisoned so that the ship's deck and cargo are raised above the waterline. These are very specialized vessels for transporting other vessels and commonly used for shipping barges, repositioning superyachts internationally or for shipping oil rigs or shipping other large floating structures from one place to another.
Project cargo ships, equipped with at least one heavy-lift crane for handling heavy cargo and sufficient ballast to assure stability of the ship during loading and discharging operations.
Cargo weighing over 100-tonnes is commonly referred to as heavy-lift cargo however many modern break bulk vessels are geared with cranes capable of lifting 100-tonne pieces. Freightplus can provide heavy-lift freight forwarding solutions for shipping very heavy cargo, with access to vessels capable of lifting up to 1,800 metric tonnes and RORO capacity up to 2,500 metric tonnes.
Shipping to Small Ports and Remote Sites
It is often cost-prohibitive to ship heavy equipment from small ports or remote sites unless some economies of scale can be achieved. However, for shipping packages of machinery, shipping very large pieces of equipment or shipping large individual pieces with high value, paying a premium for an induced call (where a ship diverts to a port or anchorage specifically for one load, usually by way of a part-charter of a break-bulk vessel), can actually be a very cost-effective freight forwarding solution for shipping large cargoes from remote places, instead of transporting cargo from a remote location to a larger port.
Small ports do not always have the capacity or facilities to accommodate break-bulk ships and often cannot handle the weight of special equipment for transporting heavy machinery.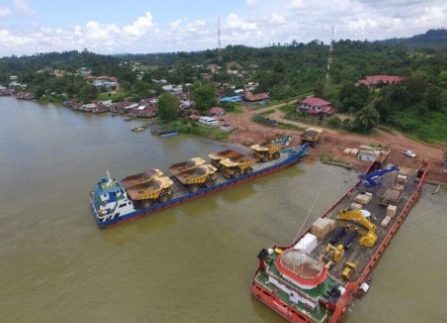 Shipping heavy equipment from remote mine sites is an area of expertise which Freightplus is renowned for. Shipping mining machinery from remote mine sites requires a combination of very specialized skills and extensive local connections and resources. The logistical challenges involved with shipping large mining machines from remote places require a completely different set of skills to shipping mining machinery between major international ports.
In many remote locations, mine sites are located on or near an inland waterway so, for shipping from locations without port facilities, we transport very heavy machinery from a mine site to a break-bulk vessel at anchorage, using barges or landing craft (LCTs). Remote location shipping for mining machinery and heavy equipment requires an ability to bring a number of resources together, across multiple languages and cultures, to provide a one-stop door-to-door solution. This can include remote site machinery dismantling, ensuring compliance for the country of destination (for example; cleaning heavy machinery to Australian biosecurity standards or satisfying USA EPA requirements or the Montreal Protocol on ozone-depleting substances), preparing heavy mining machinery for export shipment in a remote location, loading and lashing very heavy mining equipment securely for safe LCT transportation to the mother vessel and ship to ship transfer at anchorage.
Freightplus has earned a reputation for successfully coordinating all of these individual services into a reliable service for moving mining machinery from remote locations, one of only a small number of freight forwarding companies who can ship mining machinery between remote sites, consistently in full, on time and within budget.
Check out some of our case studies for transporting mining machinery from remote locations;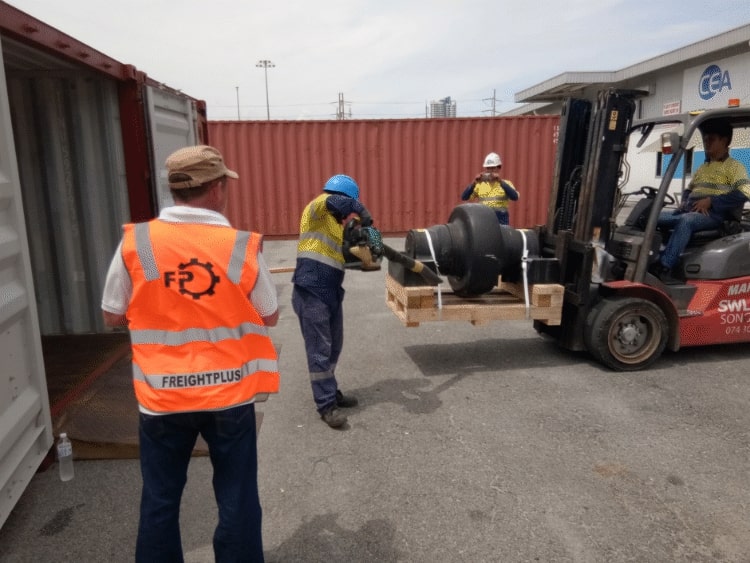 Container shipping is generally the most cost-effective and easiest way to ship any products that will fit within shipping container specifications.
One of the freight forwarding services provided by Freightplus is dismantling machinery for packing into shipping containers.
All Freightplus offices and agents offer container shipping services, including shipping of out-of-gauge machinery using flat-rack containers.
Freightplus offers complete door to door logistics solutions for heavy equipment, including road transportation from inland locations to shipping ports. Our freight forwarding service includes route planning and trucking permits for road transportation of oversized loads.
Heavy haulage of over dimensional loads requires careful planning, an extensive knowledge of local transport authority rules and restrictions for heavy haulage, and the physical limitations of the intended road transport route. This can include road width, bridge weight limitations, overhead electrical wires, port access gates, overhanging trees and more. When we are moving heavy machinery by road, our heavy haulage specialists will often need to carry out a physical route survey as an integral part of the planning process. This will involve driving the proposed route, taking note of all potential transport limitations for the intended cargo and identifying solutions to overcome each restriction.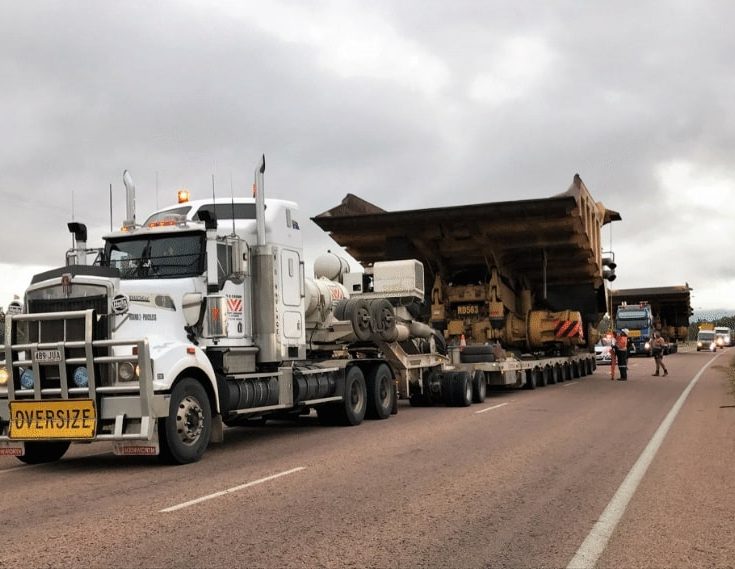 There are various means by which our heavy road transport specialists can overcome obstacles along an intended route. This will often involve working with local electricity companies, local government authorities and road transport departments to arrange lifting (or removal and replacement) of overhead wires, trimming overhanging tree limbs to create a clear path or temporarily removing street signs or fencing or other obstacles, in order to achieve a clear route, free of obstacles and potential hazards on trucking routes.
Our heavy haulage specialists know exactly what to do to, in order to overcome obstacles that prevent transporting heavy equipment along an intended road transport route, when it is possible to do so, but sometimes it is simply not possible. In these instances, Freightplus' heavy haulage specialists will search and identify suitable detours, using other existing roads. If there are no existing roads capable of accommodating the weight or dimensions of the cargo we need to move, our route planners will assess all available alternative means by which to transport your heavy equipment safely and as cost-effectively as possible. Previous solutions implemented by Freightplus for moving heavy equipment have included hiring a military floating bridge for crossing a river with mining trucks too heavy for bridge limitations, using the cargo itself (a dozer and an excavator) to make a short bypass road and taking an alternative route to a river, from where we have transferred the cargoes from heavy road transport vehicles to river barges. We regularly use high-wire teams to lift overhead wires and our heavy haulage escorts often remove and replace street signage, port gates and other challenges restricting the transport of heavy equipment by road. Whatever the obstacle, Freightplus will know exactly what is required to overcome it and how to configure heavy equipment for road haulage along the intended route.
With 20 years in the freight forwarding business, and thousands of successful heavy equipment moves under our belt, Freightplus has developed an extensive global network of heavy haulage professionals, possessing the necessary knowledge, experience and specialized heavy haulage equipment required to safely and reliably transport any heavy equipment.
Using rail freight for over-dimensional cargo is less common, mainly because of the physical limitations imposed by tunnels (and overhead wires, in the case of electric locomotives), but using rail freight for transporting heavy equipment that fits within the height and width restrictions for rail, can still be a cost-effective alternative to road freight, in some places.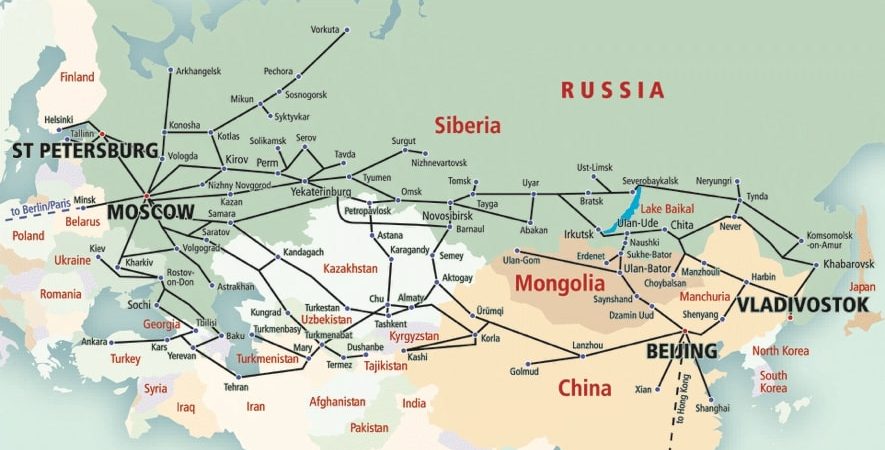 For example, Freightplus has extensive experience shipping mining machinery to Russia and the CIS countries, successfully moving heavy equipment using Russian rail. Some examples include CAT 777s from Japan to Kazakhstan, an EX1200 from the USA to Kyrgyzstan, Euclid dump trucks from the Philippines to Uzbekistan and Caterpillar underground mining trucks from Australia to Turkmenistan.
Rail can be a cost-effective and reliable freight forwarding option for shipping equipment to customers in the CIS countries and Russia, due to the extensive use of the Russian rail gauge within Russia and surrounding countries, including Finland, Estonia, Latvia, Ukraine, Turkey, Mongolia and China.
Freightplus has exclusive representatives at key Russian ports, in addition to many years of experience shipping heavy machinery to CIS countries and Russia by both road and rail; from the west via Bremerhaven, Germany; from the east via Vladivostok or Shanghai and from the south, via Bandar-e-Abbas.
With offices across four continents, you can access a Freightplus operator, face to face, at any time of the day or night, for good advice about shipping over dimensional or heavy lift freight: