Brief
To provide a cost effective door to door movement of 2 x CAT 6090 Front Shovels from a remote site in Indonesia, to Perth, Western Australia, providing solutions for transport, packing and biosecurity services.
Origin
Remote site in Indonesia
Destination
Perth, Western Australia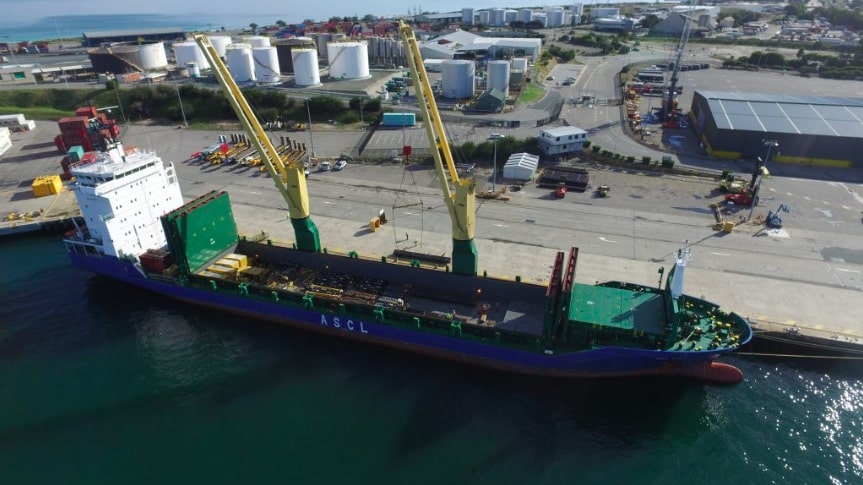 Job Specifics
To ensure that every aspect of the shipping process would run smoothly, Freightplus representatives conducted a route survey and site assessment in Indonesia. During this pre-shipment planning process, they ascertained information on the route that needed to be taken to transport the machines from the remote site, as well as information on the condition of the cargo and its packaging.
Due to the fact that the cargo had been sitting at the remote site for two years, the original factory packaging had deteriorated to the point of being unsafe to lift or transport. This meant that the Freightplus crew had to repackage the cargo so that it would be protected during transport and safe to lift and load. Once the repacking was completed, 109 separate pieces of cargo was loaded onto trucks and transported down a dirt road to a waiting barge.
Precise timing was required to ensure that the modified coal barge we were using to transport the machines would have the perfect river level to complete the 5 day journey  down the Barito River to Banjarmasin. The fluctuation of the water level for the Barito river is extreme, sometimes rising or falling several metres in a matter of hours, if the level is too low the barge could become breached, but if too high it could not pass underneath bridges on the route.
With the dry season looming and river levels dropping we needed to act quickly to ensure the cargo would complete the journey in the designated timeframe. Once the barge reached Banjarmasin, the cargo was transferred to a break bulk vessel at deep water anchorage before sailing to Laem Chabang, Thailand.
With a facility located in the Free Trade Zone in Laem Chabang, Freightplus was able to provide packing and biosecurity services in Thailand before the machines were shipped to their final destination. Once the cargo was properly cleaned and packed they were transported to Laem Chabang Port and loaded onto a break bulk vessel bound for Fremantle, Western Australia.
The Freightplus team in Western Australia were on the ground ready to discharge the cargo when the vessel arrived into Fremantle. They carefully loaded all 109 pieces of cargo onto trucks and coordinated the delivery to the customers door in Perth.
Outcome
By engaging Freightplus to carry out offshore biosecurity inspections and cleaning, our customer was able to receive 94% of the 6090 components directly off the wharf, with no need for remedial cleaning or further inspection by the Australian Department of Agriculture. This resulted in delivery around a month ahead of target and significantly under budget.