Brief
To identify and implement the best method of moving 8 Komatsu HD785-5, 70-tonne rigid dump trucks, from a coal mine in Samarinda, East Kalimantan, to Darwin, Australia.
Origin
EXW, Samarinda, East Kalimantan, Indonesia
Destination
DEQ, Darwin, Australia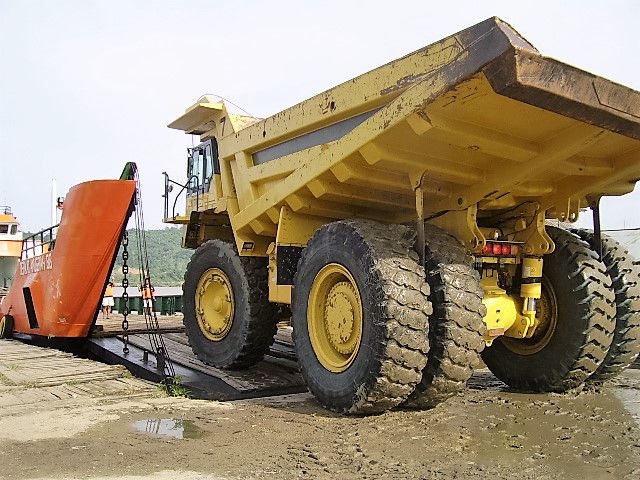 Job Specifics
Our first task was to identify the most appropriate method of shipping from this remote location, which we determined was to charter a ship, from deep water anchorage close to Samarinda, to Darwin port.  This would enable us to access the Mahakan River somewhere close to the mine and ferry these large trucks from there to the mother vessel.
Because the trucks were to be shipped to Australia, it was imperative Australian quarantine conditions were met before shipment. Our next step was to find a yard where the trucks could be cleaned.  Recent monsoonal rains had left the mine road up to a metre deep in mud, in parts, making it unusable as a quarantine wash pad.   A Freightplus representative travelled to site and, in conjunction with our Indonesian agency partners, surveyed possible routes.  Within 48 hours or arriving at Samarinda, we had found and negotiated a suitable LCT loading site.  We located and rented an unused block of land, en route from the mine site and as close as we could get to the LCT loading site on the Mahakan River. This was to be our make-shift wash site for the project.
We established around-the-clock security for the wash site, working closely with our contacts in the local military police. A Freightplus quarantine assessor was flown in from Japan to supervise the local cleaning crew, with the brief to get these 8 used mining trucks cleaned to AQIS entry standard and maintain that level of cleanliness up to and including LCT loading.  Despite being hit by another two weeks of unrelenting rains, we completed the quarantine cleaning process on time and Indonesian Customs officers were brought to the job-site to conduct special 'on-site' Customs clearance.
The 8 trucks were driven down the LCT loading ramp in the very early hours on the morning our vessel was due to arrive at a Samarinda anchorage.  With the trucks taking most of the width of the road, this was the only option.  Overhead power and phone cables were temporarily removed and replaced and tree branches cut, allowing our cargo to squeeze its way down the road to our ramp. At daybreak, three Lets carried the 8 trucks up river and out to the offshore anchorage, where the ship's gear was used to load them on board.  Cleaning crews continued to put finishing touches to the trucks on the 4-hour voyage out to the mother vessel.
On arrival at Darwin, a Freightplus representative supervised discharge, attended Customs and AQIS quarantine inspections and coordinated import clearances.
Outcome
Shipment delivered in full, on time and as quoted.