Early Sunday morning a RoRo (Roll-on/Roll-off) vessel overturned off the East Coast of the United States. Marine Traffic shows the MV Golden Ray was passing another vessel entering St Simons Sound. As the Golden Ray was attempting make a right turn it began listing heavily before overturning. Shortly after, the vessel caught fire and emergency authorities were contacted. According to the National Weather Service records, there was no extreme weather that may have contributed to the overturning.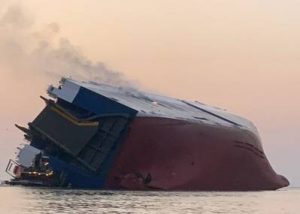 On board of the 656-foot ship were 4,200 vehicles, 23 crew members and a pilot. 20 out of 24 people on board were rescued promptly. However, the remaining four were trapped for a further 30 hours. Captain John Reed said three of the missing crew members were found in the hull near the ship's propeller, and the fourth member was trapped in the vessel's engineering department.
Now that all crew are accounted for the focus has shifted to removing the vessel with as little environmental impact as possible. Assisting the Coast Guard are the Georgia Department of Natural Resources, Morna Towing, Seatow, Brunswick Bar Pilots Association, and the Glynn County Fire Department. At this point in time it remains unclear whether there are any fuel leaks, however precautions have been put in place and an emergency spill response crew is on standby.
The crew members are in reasonably good spirits and in good condition considering their ideal. The cause of the incident is currently under investigation.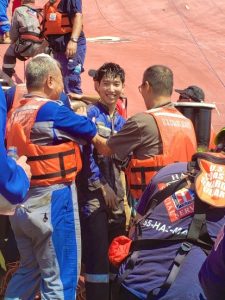 Stay updated on the latest Freight News here.