New Zealand Biosecurity has new requirements in place and has updated its cleaning certificate.
The new certificate is available on the official Biosecurity New Zealand webpage.
This MPI-recognised certificate specifies that the required cleaning actions for used outdoor or targeted machinery have been completed; including external and internal cleaning (involving disassembly) before arrival in New Zealand.
To ensure all biosecurity needs are met don't hesitate to
contact a Freightplus representative.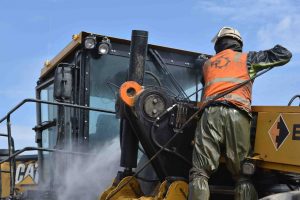 Freightplus is the market leader in offshore biosecurity inspection services and offshore biosecurity treatment services (machinery cleaning for shipping overseas).
In addition to biosecurity inspections, Freightplus provides pre-purchase mechanical condition reports for machinery and automotive, and pre-purchase boat inspections and marine surveys.
Stay updated on the latest Freight News here.