Looking to export heavy machinery Down Under? Australia has strict biosecurity guidelines that can make the process seem daunting. Knowing how to prepare your cargo correctly is crucial if you want to avoid unnecessary, significant costs and ensure timely delivery to your clients.
Here's a guide to preparing heavy machinery for Australian quarantine so your cargo will pass without hassle.
Do you know how to correctly prepare your heavy machinery so it passes Australian biosecurity controls?
Australian quarantine requirements for heavy machinery
The Australian Government's Department of Agriculture and Water Resources subjects all goods to biosecurity control upon entering the country. If you're importing heavy machinery to Australia that has been used, you'll need to take a great deal of care preparing it for export. Strict biosecurity guidelines apply to all machinery that has been engaged in agriculture, as well as fruit handling, food processing, animal farming, horticulture, timber felling, mining, earthmoving, construction and maritime.
Biosecurity officers will inspect all imports to ensure that they are free of contamination at a wharf or the Australian arrival port. Not all Australian ports have biosecurity approved arrangements so it is important to check the capabilities of your intended discharge port before shipping used machinery to Australia.
Contamination could occur as a result of your machinery containing any of the following things:
• Plant seeds
• Remnants of mud, clay or soil
• Twigs, leaves, roots and bark
• Animal faeces
• Live insects
• Oil or grease containing remnants of any of the biosecurity risk materials


If machinery is found to be contaminated, you could be forced to have it destroyed, re-exported or – if you're lucky – you could just be required to pay significant additional costs to treat them. How do you ensure these things don't happen?
Cleaning your heavy machinery for shipping to Australia
Machinery that hasn't been properly cleaned will cause you headaches in the form of additional fees and shipping delays.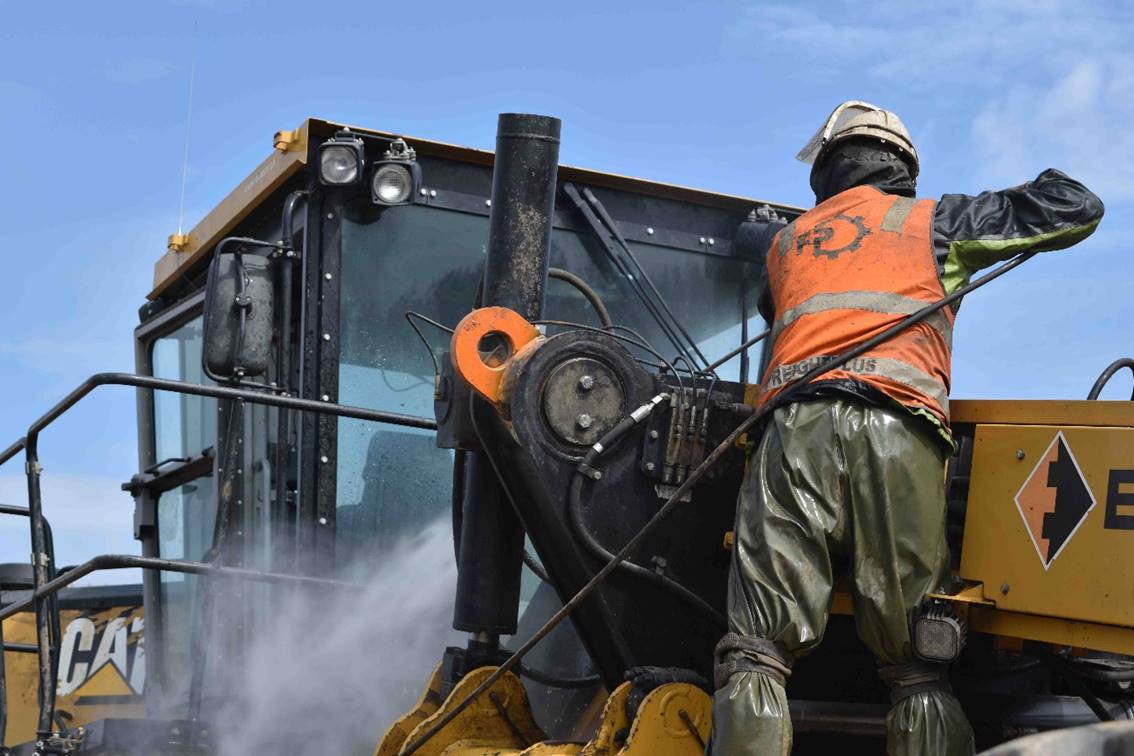 All heavy machinery entering Australia will be dismantled to some extent and inspected both internally and externally.

The expectation of the Department of Agriculture and Water resources is that all potential biosecurity risks are dealt with offshore, before your freight is presented at the origin port for shipment to Australia. The arrival of any biosecurity risk material at an Australian port is taken very seriously and the party responsible for importing contaminated used machinery.
The amount of cleaning required will depend on the condition of the machinery, as there are different requirements for new and used machinery, but the level of cleaning required for used machinery is, in simple terms, 'as clean as new'.
New machinery can be contaminated during field tests outside Australia, or if it has been stored outdoors or even during transportation to the port. Used machinery will require more extensive cleaning and preparation.
All heavy machinery entering Australia will be dismantled and inspected both internally and externally. Therefore, it needs to be cleaned thoroughly both inside and outside. To clean heavy equipment for shipping to Australia you'll likely need to dismantle it to some extent prior to transport and ensure it is completely free of any biosecurity risk material. In addition, its level of cleanliness will need to be maintained during the journey.
The Department of Agriculture and Water Resources maintains a comprehensive database of cleaning guidelines specific to different kinds of equipment, including dump trucks, dozers, excavators, graders and tractors. There are some mandatory cleaning guidelines applicable to all types of machinery. Prior to shipping your machinery, you'll need to clean things such as:
• Internal ledges and hollow cavities inside track frames
• Oil tank surfaces
• Pivot points
• The inside of all joystick controls
• Battery boxes (including underneath batteries)
As part of the cleaning process, you'll also be required to remove certain elements of the machinery for easy inspection access. Some of these components include:
• Non-affixed engine covers
• Non-affixed wear plates
• Contaminated grease from universal joints
• Cutting teeth from ripper blades
• Dual tyres
• Used air filters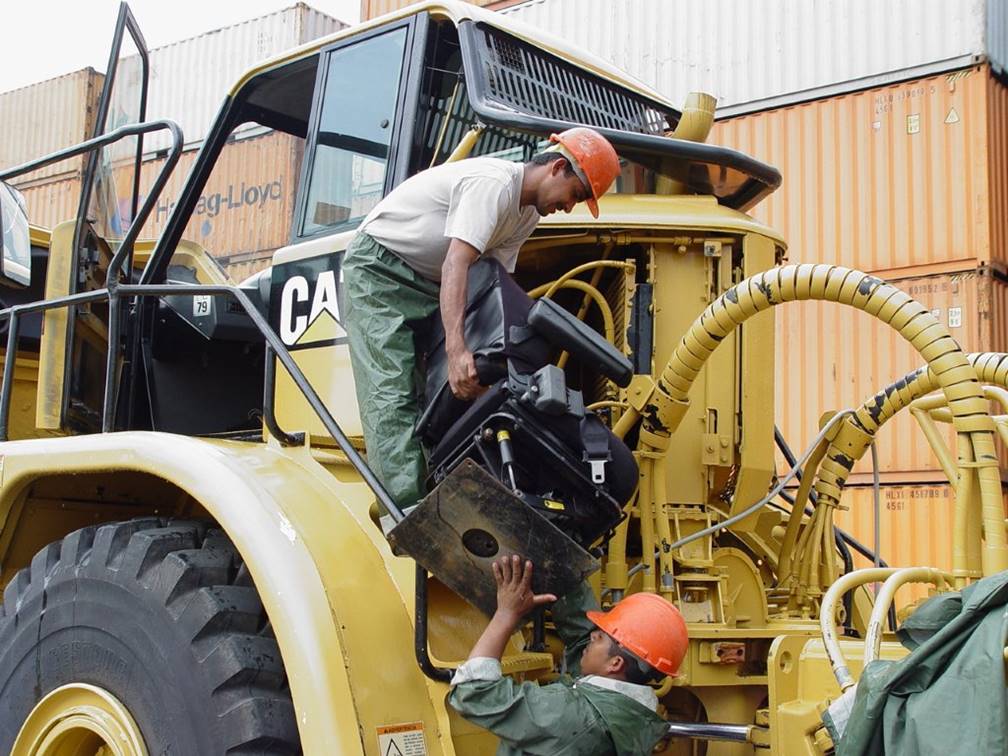 To ensure machinery is completely free of any biosecurity risk material, you may also need to cut openings in steel sections to enable easy access for inspecting and high-volume flushing to remove contamination. This might include;
• Any areas with double skins, for example dump trays or scraper bowls
• Areas with any sign of previous repair welding
• Splits or holes in blades or rippers
• Compactor teeth
• Scraper bowls
Of course, certain types and models of machinery will require more extensive dismantling and a lot of additional cleaning and quarantine preparation, and it's up to you to be aware of these. For example, most machines will need the operator's cab removed to clean beneath it, fuel tanks have to be removed on some dozers and some pad-foot compactors may need pads removed completely.
Other things to think about when exporting heavy machinery to Australia
In addition to cleaning your machinery, you'll need to consider a whole host of other things when preparing to transport it to Australia. The heavy machinery you're relocating may be subject to import conditions, require supporting documentation or an import permit (or perhaps all three). You'll need to use the Australian Government's Biosecurity Import Conditions System (BICON) platform, or talk to a freight forwarder specialising in shipping heavy equipment to Australia, to determine whether your freight consignment will require these.
Conditions and requirements can be updated at any time, so it's best to stay updated by consulting the Department of Agriculture and Water Services' website on a regular basis.
Cleaning isn't the only thing you'll need to think about when relocating heavy machinery to Australia – there's also plenty of documentation to complete.
Enlist the help of a specialist freight forwarder to assist the quarantine preparation process
When you're a logistics manager or decision-maker, you've got plenty of things to think about on a daily basis. The intricacies of machinery transport can become a hassle, particularly if something goes wrong and you need to deal with it.
Use a freight forwarder that specialises in shipping heavy machinery.
When you use a freight forwarder, all the cleaning and preparation of your heavy machinery can be dealt with using their trusted industry connections. If you have your own facilities and equipment for cleaning machinery, there are one or two highly specialised freight forwarders for heavy machinery that will provide pre-shipment biosecurity inspection services at your own site. They'll also cover all of the documentation for you.
As Australia is a party to the Montreal Protocol on Substances that Deplete the Ozone Layer, the importation of any equipment pre-charged with offending substances is prohibited, unless the importer is licensed to do so. In terms of shipping machinery to Australia, this means any gases, such as air-conditioning gas R134A, must be evacuated prior to shipment, by an authorised party, in accordance with the Montreal Protocol.
You should ensure you use a freight forwarder that specialises in shipping heavy machinery as they will be able to take care of all of this for you. Freight forwarders that transport farming equipment and agricultural machinery to Australia on a daily basis are well aware of the stringent conditions that need to be met. They'll have the necessary expertise in this area whereas most freight forwarders will not have the same specialist knowledge or industry connections.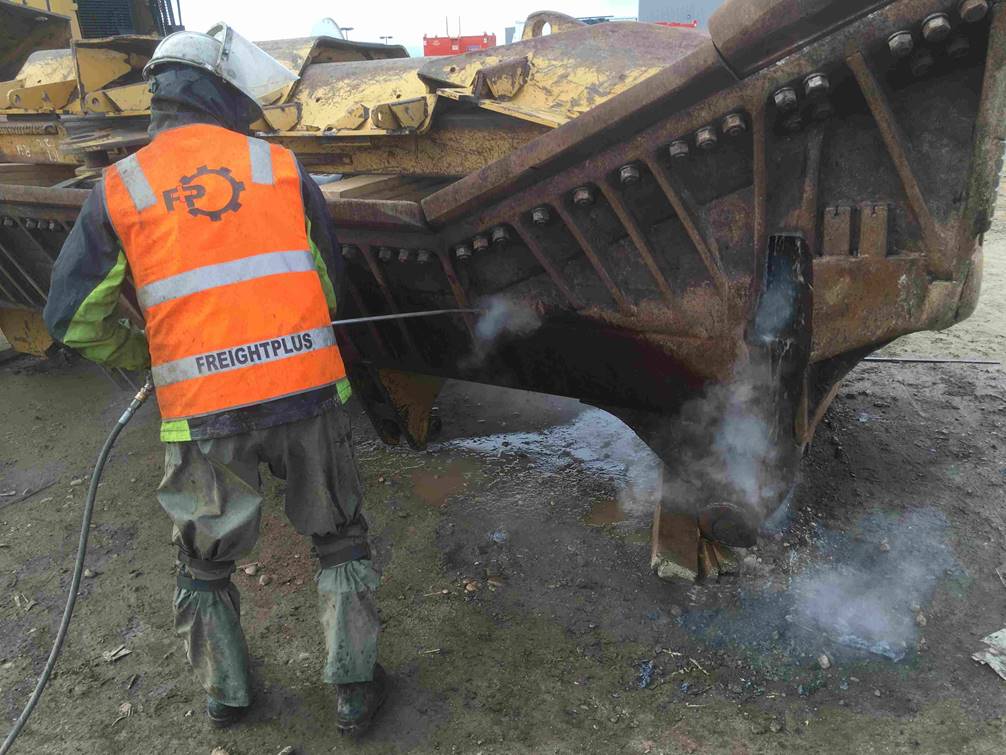 As part of its comprehensive offering, Freightplus offers extensive pre-shipment origin services, from steam cleaning of machinery to the arrangement of necessary licences. When you ship with us, we'll cover all of the preparation, so that you can focus on other aspects of your business.