Climate protesters disrupt port operations along Australia's East Coast
Last week,

Blockade Australia protesters disrupted port operations across Australia's east coast. The group engaged in five consecutive days of protests across ports in Melbourne, Newcastle and Brisbane in a desperate plea for climate action.

There was a total of 13 demonstrations to designed to disrupt port operations across an entire working week. These include: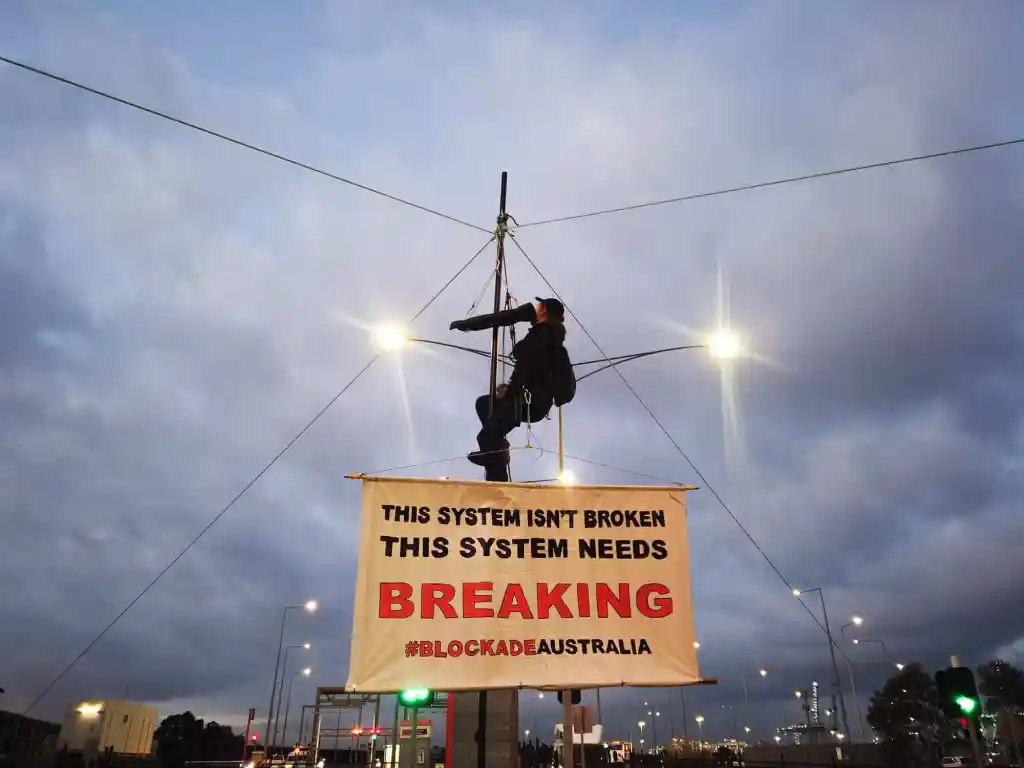 Abseiling off Footscray Road Bridge to block six lanes of traffic and access to the Port of Melbourne
Hanging from tripods, bipods and monopods on access roads, motorways, train tracks and rail bridges
Climbing stacker-reclaimers at the Port of Newcastle
Climbing aboard freight trains at the Port of Melbourne and Port of Brisbane and coal trains at the Port of Newcastle
Locking oneself between two cars to block traffic at the Port of Brisbane
Hitting an emergency stop button at Newcastle Coal Port.
This action fell on the one-year anniversary of "the Colo Raids" – a New South Wales Police Force Strike Force Guard targeting the group with strategic incapacitation.
Blockade member Kalpa said the group will continue to "hold the Australian system accountable for the current ecocide".
"I have climbed onto the train that was heading towards
Newcastle coal port, the biggest coal port of the world and a key economic world fossil fuel gateway, to protest this system's inability to care about the survival of any form of life on the planet," she said on a live stream.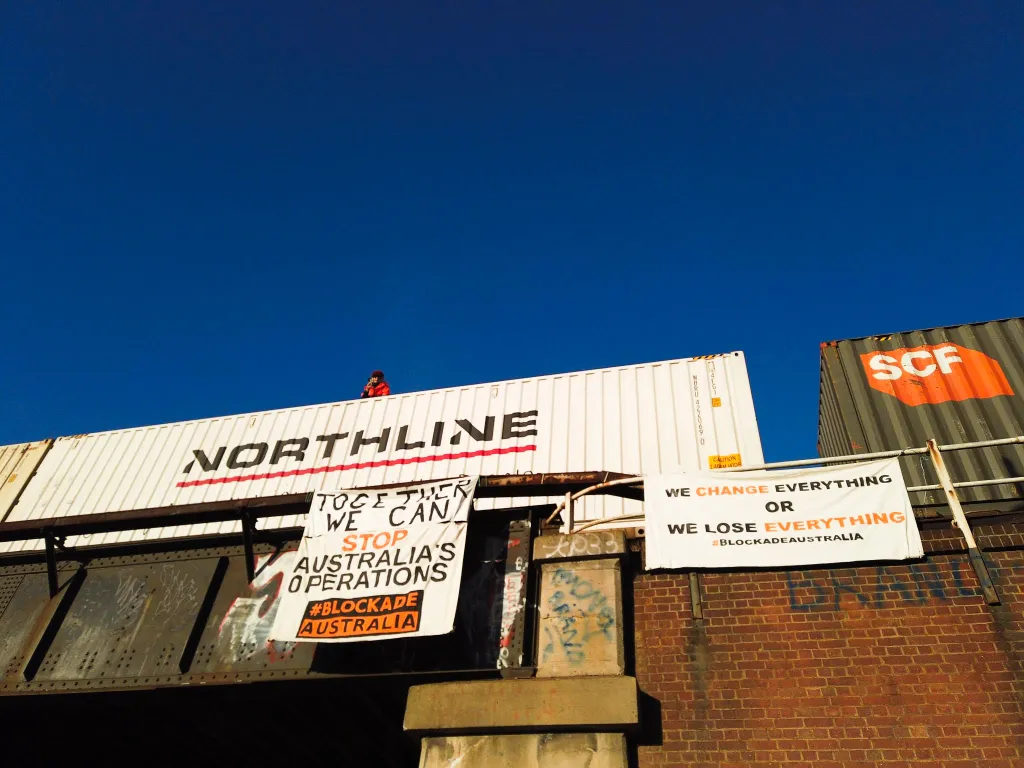 Darsh Rasborsek, who was remanded in custody after he blocked two lanes leading into the Port of Brisbane, said: "The current economic and political structures here are incapable of making the kind of change needed to ensure a safe future. We have had decades of science warning us, but the evidence is right in front of us – floods, fires, droughts, heat waves … despite everything, global emissions continue to rise."
NSW Police Minister Yasmin Carley and Premier Chris Minns hoped to engage with social media sites in a bid to prevent activists from broadcasting the demonstrations that are disruption port operations.
"The Premier, myself and the Commissioner (Karen Webb) are keen to meet with Facebook soon to see what can be done to get live streams of illegal and dangerous activities taken down quickly," Police Minister, Yasmin Carley, said.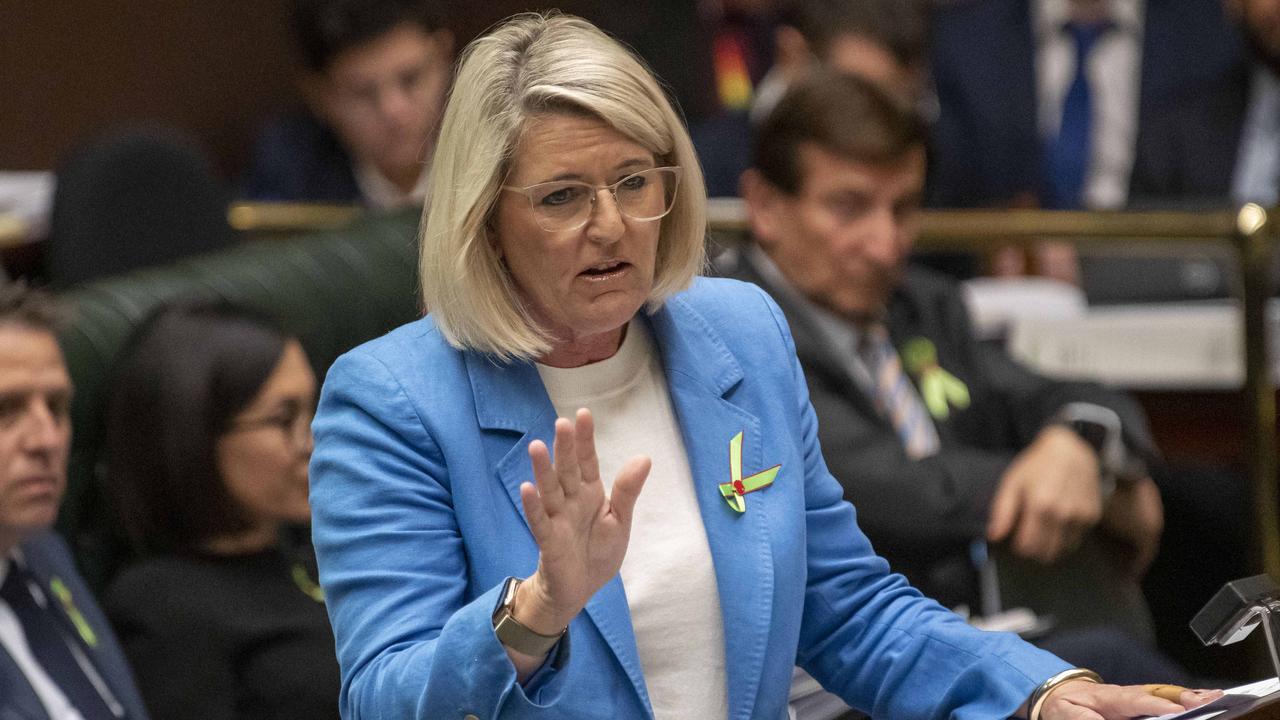 The opposition supported the idea, with the leader and former attorney general, Mark Speakman, saying it would help deprive the protesters of attention.
"We all have a right to protest, but other people have rights as well … all those rights have to be balanced," he said.
But independent cross-bench MP Alex Greenwich said it was a "deeply concerning" development, noting the importance of protest in democracies.
"I strongly oppose those protest laws that were rushed through the parliament last year. Freedom to protest is such a fundamental right that we really need to be protecting," he said.
The NSW Premier Chris Minns doubled down on the Today show last Thursday morning, slamming the "extremely dangerous" stunts.
"They are putting their own lives at risk and they are putting emergency service workers' lives at risk as well," he said on the Channel Nine morning show.
NSW has some of the harshest penalties for protesters who "shut down major economic activity" and protest near major roads, freight train lines, or infrastructure sites. If found guilty, activists can face a maximum penalty of two years of jail time or fines up to $22,000.
"Holding up a train line or a freight line on the way to a coal terminal means shutting down the heavy vehicles, the tonnage, that comes down those rail corridors."
Freight Trade Alliance's head of international freight and logistics Tom Jensen says the demonstrations caused "significant delays" across east coast ports.
In an interview with Daily Cargo News, Container Transport Alliance Australia director Neil Chambers has said that while the demonstration last Wednesday didn't cause as much disruption as Tuesday's action, it is expected the blockages will have a flow-on effect for the supply chain.
"Particularly from the Port of Brisbane point of view, those trucks that were trying to gain access to Fisherman's Island would have not met their appointments for that time," he said.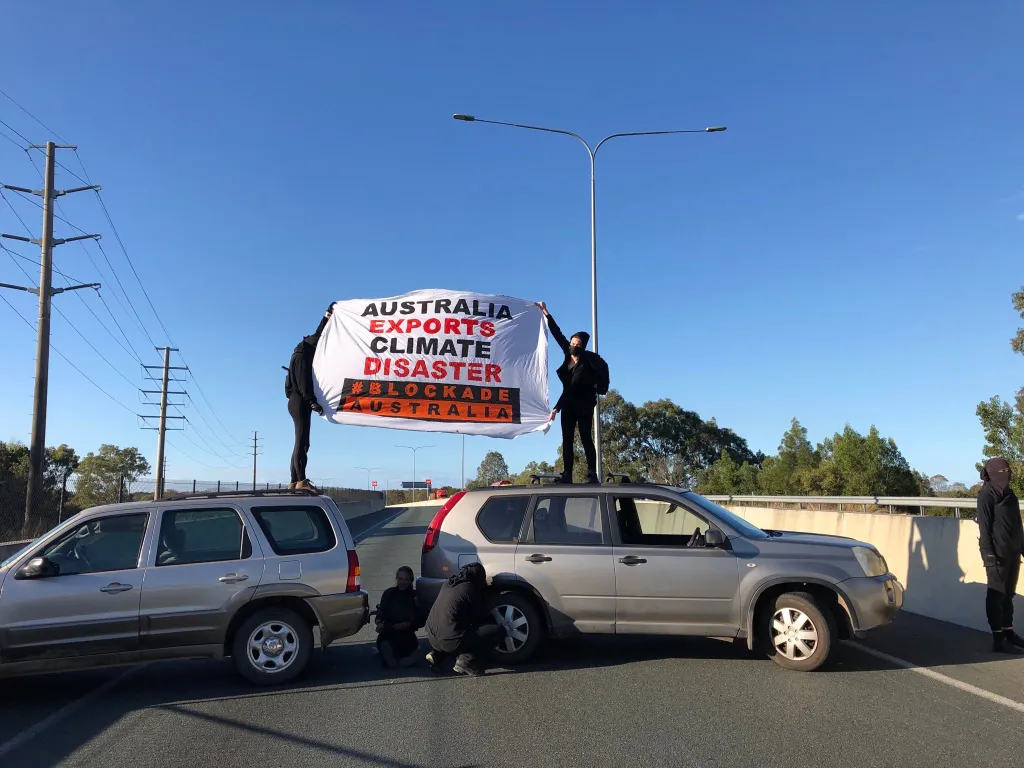 "They'll have to re-book, and also the stevedores will have to look at the issue of no-show fees and penalties for late arrival or non-arrival.
"It has a significant flow-on effect for the supply chain and the costs to the supply chain.
"It is our view is that the protests are mindless and directionless. It is simply hurting decent, hard-working transport logistics workers who are trying to go about their legitimate business."
Blockade Australia told the public to expect further disruptions.
To stay up-to-date with the latest updates and other industry news and head to the Freightplus Newsroom or get in contact with the Freightplus team.