THE BOYS ARE BACK!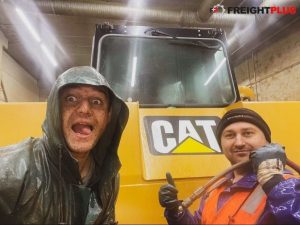 Shipping from Europe to Australia?
After a seemingly endless hiatus due to COVID travel restrictions, our European biosecurity specialists, Robbie Sichigea (left) and Florin Radu (right), are well and truly back in business, and looking very happy to be getting dirty again.  This pic received overnight from a vendor's yard in northern Europe says it all.  After spending the last 18 months locked down, spending their time studying and learning additional languages, the boys have had a steady month of Biosecurity PSI (pre-shipment inspection) bookings around UK and Europe.
Robbie and Florin, who have been providing hands-on biosecurity inspections for Freightplus, since 2014 and 2017 respectively, are again free to travel to almost every major city in Europe, and beyond.  Now that Freightplus has secured volume contracts with both of the major RORO carriers from Europe to Australia and New Zealand, (both Hoegh Autoliner and Wallenius Wilhelmsen Ocean) machinery importers are able to enjoy Freightplus' premium service benefits, at the same enjoying low rates previously only available using the budget services.  With the resulting increase in booking numbers out of Europe and the opening up of borders, it's great to have the boys busy again!
Biosecurity inspection teams throughout Australia, Far East, South East Asia, Europe and North America means COST EFFECTIVE PRE-SHIPMENT INSPECTIONS
All Freightplus inspections are GUARANTEED AGAINST DAWE RE-EXPORT FROM AUSTRALIA
Perfect track record maintained over 20 years providing offshore inspections 100% SUCCESS RATE – ZERO RE-EXPORTS
If you'd like to know more about Australian Biosecurity for used machinery, and our guaranteed inspections, click here: Biosecurity Inspection Services | Quarantine Compliance | Freightplus
If you'd like to know more about our reduced-price premium RORO shipping to Australia, call Freightplus H.O. on +61 7 3203 8822 or email mail@freightplus.com